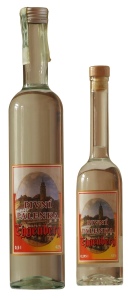 Beer brandy Eggenberg
Beer brandy Eggenberg is traditional special native product and our brewery offers this brandy like product supplement.

To producing litre of this 42% beer brandy is need c. 10 litres of quality beer. Final product is very delicious cereal distilate with hop flavour.

Interest in this beer brandy increases and is favoured with beer consumption.