"Can of BEER"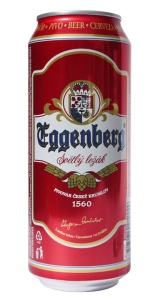 Light lager EGGENBERG
Typical South Bohemian deep fermented lager with gold colouring, full of flavour, perfect consistent of bitter-sweetish strong flavour and high frothiness. Alcohol volume 5%.
All beer types are produced exlusively of Czech commodities. The most imporant commodity and main condition for production of quality Czech beer is quality water, which brewery Eggenberg takes from own srping, established in 1561 by Jakub Krčín of Jelčany and barley malt produced of Czech and Moravian malt, hop from Žatec as well.