About Eggenberg company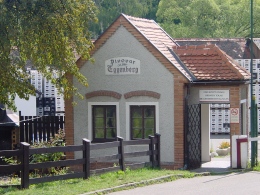 History of present Eggenberg Brewery dates from September 7th. 1991, when Krumlov brewery plant has been bought within the privatisation like the first Czech brewery from national concern Jihočeské pivovary (South Bohemian Breweries). But history of Eggenberg brewery dates back to 1560.
In the 1960s was installed new modern technology and property of brewery was reconstructed. During brewery operations was established own stylish brewery restaurant for 300 guests, placed in original brewery coolroom area under the lager cellars.
Today brewery deals with production and sale of beer and soft drinks Eggenberg brand, mainly distributed in South Bohemia and export as weel. Main export market are former states of Soviet Union, Finland, Denmark, Germany and Italy. Thanks to its location in the center of Český Krumlov UNESCO heritage town, our company supports activities in travel movement branch and cooperates at cultural projects and promotion events.